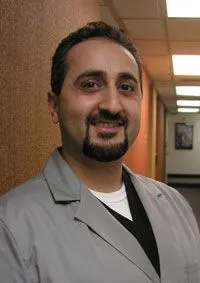 An Illinois native and the second eldest of 3 brothers, Dr. Alin Alkass was raised on the nor thwest side of Chicago and now lives in the suburb of Morton Grove with his wife Christine and their three childre n, Thomas, Anthony and Daniel. Upon graduation from Lane Technical High School in Chicago, Dr. Alkass proceeded on to the University of Illinois at Chicago where he earned a Bachelor of Science degree.
He enrolled at the New York University College of Dentistry in Manhattan, New York and in 2005 he graduated with a Doctor of Dental Surgery degree. Upon bidding New York City a final farewell, Dr. Alkass returned to the Chicagoland area and began his career as a general dentist, servicing the same region that shaped him. He provided dental care in differing practices that spanned the northwest region, from each absorbing unique perspectives, attitudes and techniques.
Because of his diverse experiences and extensive post-graduate training, he is adept in the following: the advanced use of modern digital technology; periodontal maintenance (continuing care of gums); placement of fillings, crowns, bridges and porcelain veneers; tooth nerve therapy ("root canals"); fabrication of complete and partial dentures; simple and complicated tooth extraction; treatment of children; whitening and more. In the near future he plans to provide services for tooth implants, as well as traditional and metal-free "braces" for Forest Glen, Jefferson Park and communities beyond.
Dr. Alin Alkass is a different kind of dentist. Warm, patient and caring, he takes the time to listen and then provide you with the best care possible. He is also well-regarded by his patients for his thoroughness. Rather than being rushed, he believes in personal quality over quantity and is complimented for his light, gentle touch.
It is crucial to Dr. Alkass to stay current with dental news, techniques, events and the latest safety concerns in dentistry. He understands and respects that the alternative will cause patients to suffer. Therefore he has amassed hundreds of hours of training by routinely attending continuing education courses numbering far beyond what is required for licensure (did you know that some white fillings are now BPA-free?). He finds it a must to stay in touch with the dental societies as a member and perpetual student: American Dental Association, Illinois State Dental Society, Chicago Dental Society and the Academy of General Dentistry.
When Dr. Alkass is not practicing dentistry he spends most of his time with his lovely wife and children. He loves to travel, is a sports enthusiast and an avid Chicago Bears fan!